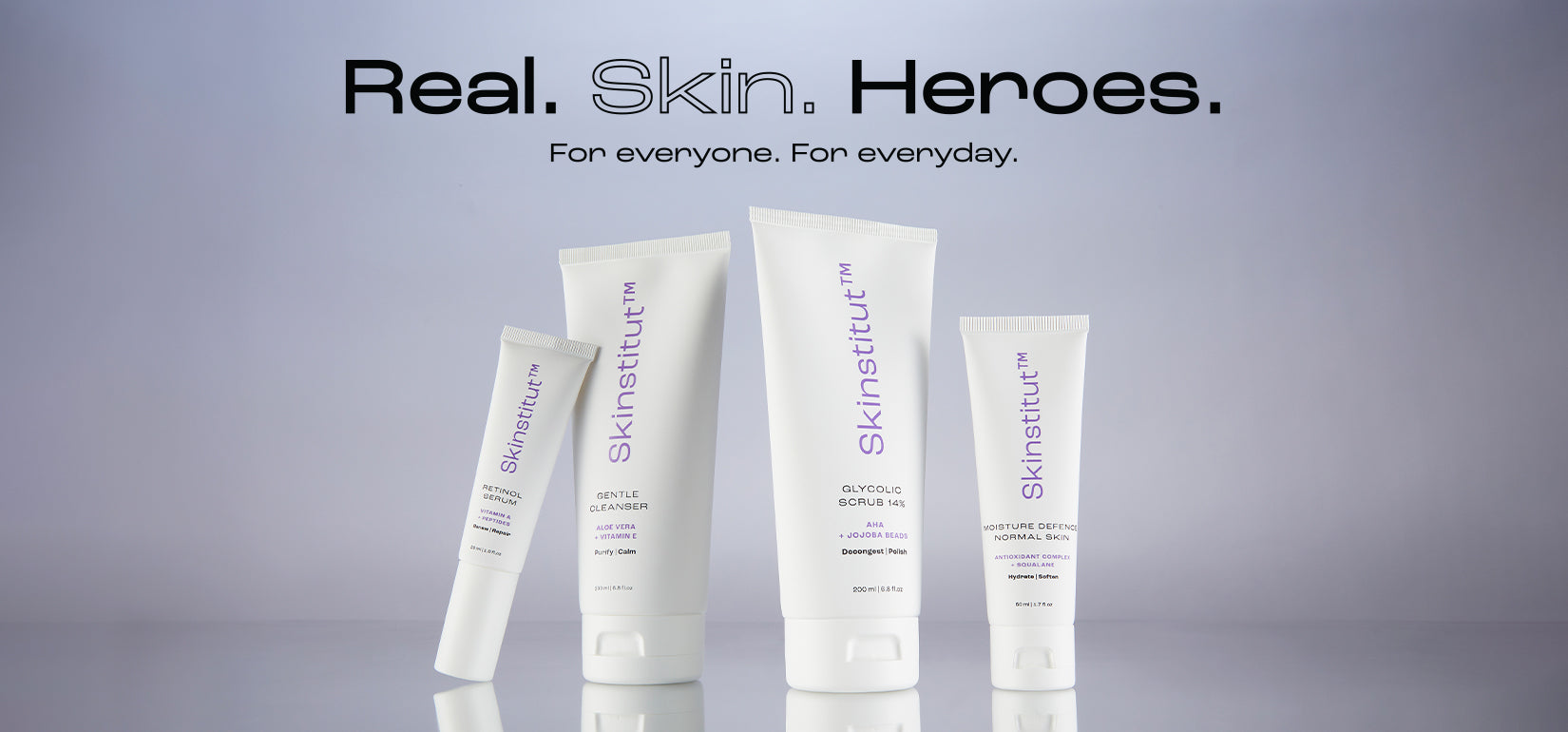 Meet the range
Our edit of hard-working bestsellers that form the basis of every regime. Recommended by therapists, backed by a Medical Advisory Council of doctors and dermatologists, these four transformative formulas empower you with the confidence that comes from living your best skin.
GLYCOLIC SCRUB 14%
Harnessing active ingredients.
Benefit – This hardworking hybrid formula combines physical and chemical exfoliants to thoroughly clean and polish your skin's surface. Chemical exfoliant, Glycolic Acid, refines and retexturizes, while naturally derived Jojoba beads gently cleanse skin of impurities for a more radiant complexion.
★★★★★
This scrub is amazing! Definitely great for preventing breakouts and exfoliating your skin. I wouldn't use it daily as it is one of the stronger products, especially when you mix it with the peel! Recommend! 
- Jasmin P
GENTLE CLEANSER
For everybody. Every day. 
Benefit –  With deeply nourishing antioxidant extracts of Green Tea and Goji Berry, Gentle Cleanser is a non-irritating formula that removes all makeup, sunscreen, and grime, without stripping your skin of its essential moisture. 
★★★★★
I love this cleanser. I have normal breakouts and this is so calming it minimises the impact and makes my overall skin feel great. I've tried so many other cleansers and some make me red and dry, this one with the aloe has a calming yet hydrating texture and my skin loves it.
- Catherine
RETINOL SERUM
Formulated to target multiple concerns.
Benefit – Whether it be fine lines, acne or pigmentation, Retinol Serum will be your go to. With Plant and Olive extracts, you can target breakouts, acne scarring and imperfections all while supporting collagen production for firmness, boosted elasticity and improved skin-barrier resilience. 
★★★★★
I love this product - I have used retinol in the past and have experienced skin sensitivity and flaking. This product I have been using for 2 weeks and have not found either of these issues. My skin looks fresh, even toned and younger.
- Amelia
moisture defence- normal skin
Hydrate, protect and soften with high-performing antioxidants.
Benefit – With a lightweight and easily absorbed formular, Moisture Defence Normal Skin, contains a potent blend of antioxidant and anti-inflammatory botanical extractsthat calm and soothe skin without clogging pores.
★★★★★
I've looked for so many years to find a moisturiser to suit and treat my acne prone skin nicely. I've been using this for about 8 months now and loving it. 
- Samara B